Governments and businesses are ramping up their efforts to tap into renewable energy, partly due to looming deadlines from the Paris Agreement. In areas consuming high energy, the motivation to switch gears is even stronger. Europe is reacting to an energy crisis, while the U.S. has the Inflation Reduction Act of 2022. This act has committed a whopping $370 billion for eco-friendly energy ventures.
This backdrop sets the stage for BESS to shine. Why? Batteries help renewables deliver constant power, even when the sun isn't shining or the wind isn't blowing. BESS versatility means it's ideal for peak power management, optimizing self-consumption, and offering backup during power cuts. Plus, as battery costs decrease, these uses become more cost-effective.
There's undeniable potential in the BESS market. Investment in 2022 alone reached over $5 billion, marking almost 300% growth from the year before. By 2030, we might see the global BESS market balloon to anywhere between $120 billion to $150 billion, which is more than twice its current size. Yet, with so many players jumping in, there's confusion about how best to navigate this booming market. If you're looking to make a mark, now's your chance to identify the most promising niches in the BESS space and gear up for them.
Considering diving in? Here are some pivotal questions (with answers!) to shape your BESS game plan.
Discovering BESS Opportunities
Utility-scale BESS (Battery Energy Storage Systems) is on the rise, predicted to increase by about 29% annually for the decade. By 2030, its annual installations might range from 450 to 620 GWh, potentially capturing 90% of the market.
To truly grasp the potential of BESS, it's essential to break down the market based on user types and applications. BESS primarily falls into three categories:


1. Utility-Scale Installations (Front-of-the-Meter): These are large setups, usually exceeding 10 MWh.



2. Commercial & Industrial Installations (Behind-the-Meter): These typically vary from 30 kWh up to 10 MWh.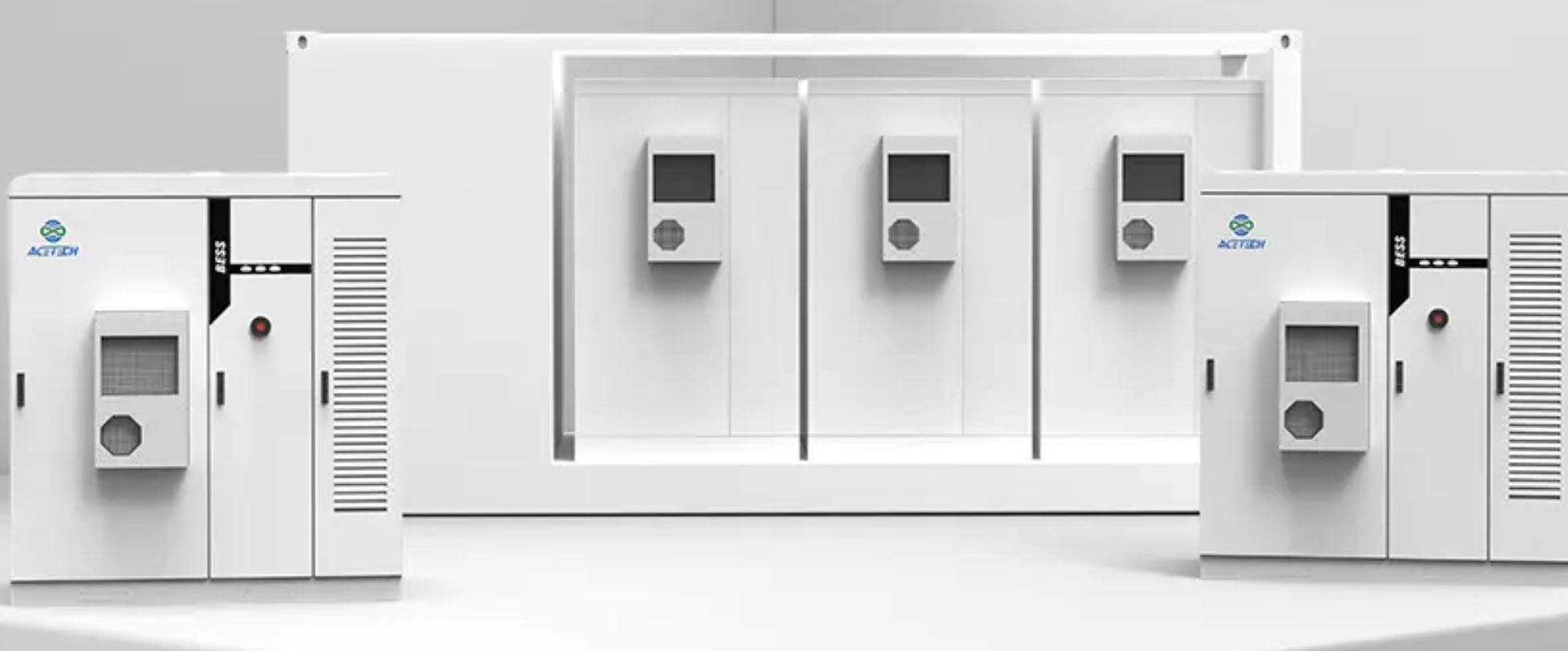 here are ACE Battery's C& I energy storage systems

3. Residential Installations (Behind-the-Meter): These are smaller units, generally below 30 kWh.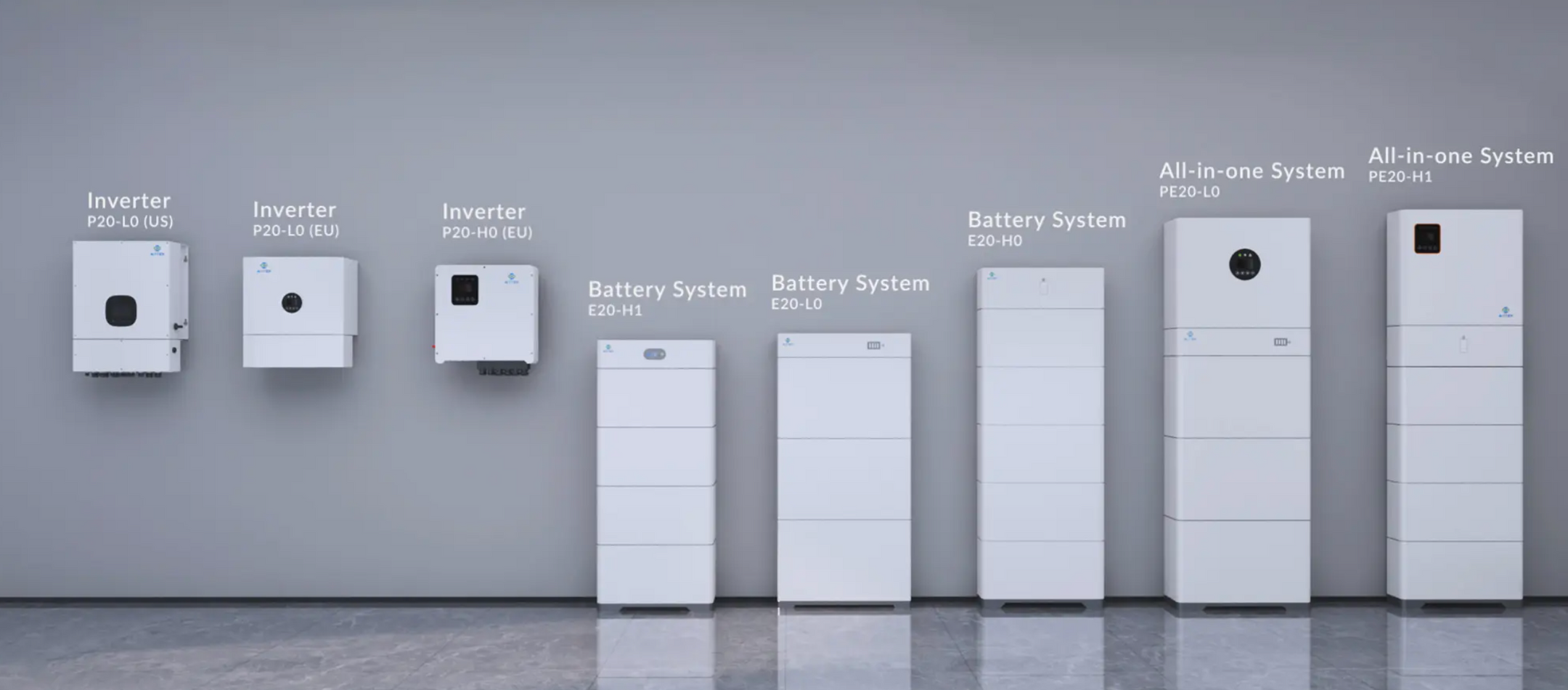 check out all the residential storage system


This segmentation offers a clearer picture of where the most significant opportunities lie within the BESS landscape.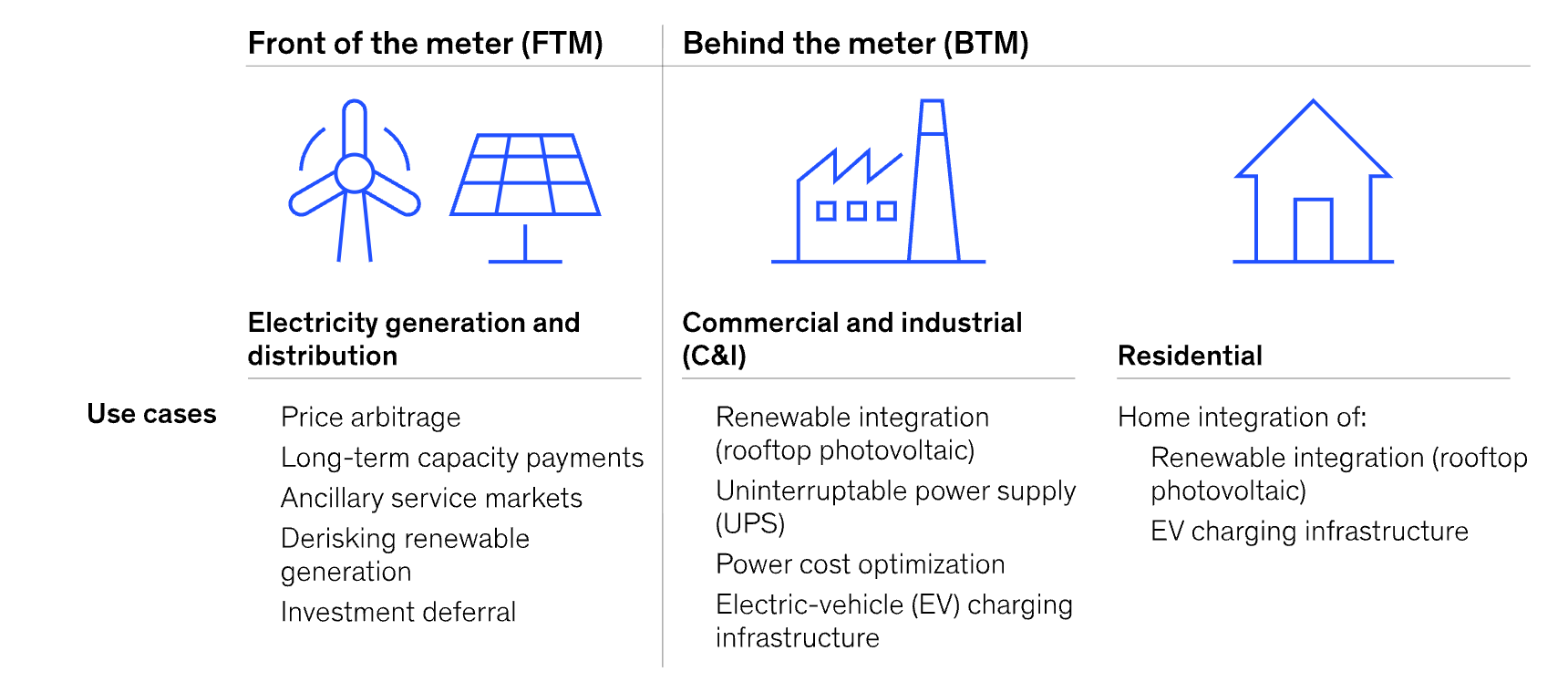 Battery energy storage systems categories source: Mckinsey
Key clients for these systems include utilities, renewable developers, and grid operators. Their goal? To ensure consistent energy flow, bolster grid stability, and avoid heavy grid investments. Leading BESS providers are either top-tier battery manufacturers or major system integrators. Their competitive edge? Cost-effectiveness, scale, reliability, proven project execution, and the knack for crafting advanced energy management tools and software.
BESS projects are scaling up rapidly. For instance, a US energy firm is aiming for a project with a 6 GWh capacity. Impressively, another company in the US eclipsed this in 2022, achieving a 6.5 GWh BESS deployment. Investments in BESS primarily focus on enhancing the adaptability of energy providers, like improving frequency response. In the future, BESS expansion will be driven by solar and wind energy projects requiring batteries for short-term storage.
Revenue generation in the FTM utility-scale BESS arena is deeply influenced by regional dynamics. Most providers mix and match revenue sources, such as participating in service add-ons, energy trading, and capacity bids. For instance, in the UK, the focus is on services like frequency management. In Italy, some have made their mark by winning renewable-centric capacity bids. German opportunities? They're about dodging expensive grid enhancements. Successful BESS players in the utility sector have recognized the importance of tailoring strategies to specific countries and their rules rather than adopting a one-size-fits-all approach.
What's the Potential in the Commercial & Industrial Sector?
The Commercial & Industrial (C&I) sector holds significant promise. Positioned as the second biggest player, it's predicted to grow at a robust 13% CAGR, potentially hitting 52 to 70 GWh in yearly additions by 2030.
Diving deeper, the C&I space has four key areas:


EV Charging Platforms

With electric vehicles (EVs) expected to make up 45% of global vehicle sales by 2030, up from 23% in 2025, the demand for reliable charging infrastructures will surge. This explosive growth translates to a need for more regular and super charging stations. To keep up without straining the existing grid, many charging service providers are considering integrating Battery Energy Storage Systems (BESS) at their sites. This trend has sparked collaborations between BESS providers and EV makers to expand the charging infrastructure, even in isolated areas.


Essential Facilities

This includes telecommunication towers, data hubs, and medical centers. Traditionally, these critical establishments depend on lead-acid batteries for brief power backups during blackouts, bridging the gap until the main power returns or diesel generators kick in. However, the shift is palpable. Lithium-ion BESS not only promises to replace these lead-acid batteries but also offers an eco-friendlier alternative to diesel generators. When combined with green power sources, like rooftop solar systems, BESS can store surplus energy. This surplus can be a revenue generator by offering grid services. Recognizing these advantages, many telecom operators and data centers are now opting for BESS as their go-to for uninterrupted power and the added perks it brings.
Public Infrastructure & Buildings
Commercial spaces, public amenities, and manufacturing units form the third C&I subsegment. Here, the focus is on leveraging energy storage systems for a spectrum of needs: from peak load management, syncing with local renewable sources, optimizing energy use, to backup and grid service provisions. There's potential for BESS to slash energy expenses in these zones by a whopping 80%. Especially in regions like Germany, the UK, and North America, where users often grapple with demand charges, BESS is gaining traction.
Extreme Environments
The last piece of the C&I puzzle is operations in challenging terrains – think mining sites, construction zones, oil explorations, or even open-air festivals. As green regulations tighten (like Europe's Big Buyers initiative focusing on sustainability or Oslo's 2025 deadline for zero emissions at construction locations), companies are looking beyond diesel generators. The transitional step? Hybrid power solutions. Eventually, a full switch to low-emission BESS alternatives is on the horizon for many.
How does BESS impact homeowners?
By 2030, home installations of BESS are set to reach around 20 GWh, making it the smallest but one of the most exciting areas in the BESS market. Why? Because homes offer a fresh canvas for inventive solutions, from standard home energy storage to building microgrids in distant neighborhoods. Think about BESS in conjunction with solar panels or as part of smart homes and electric vehicle charging units at home. Customized BESS solutions can empower homeowners to be more energy-independent, use power efficiently, and cut down high energy usage during peak hours. Plus, this could lead to better profit margins. What's driving homeowners towards BESS? Our latest poll on clean energy choices highlights three big motivators: cost, safety, and simple setup
ACE's BESS Positioning
For a decade, ACE has stood at the forefront of the BESS (Battery Energy Storage Systems) landscape, continuously innovating and adapting. The value chain breakdown of BESS, as illustrated, is a testament to the intricate and multi-faceted nature of this industry.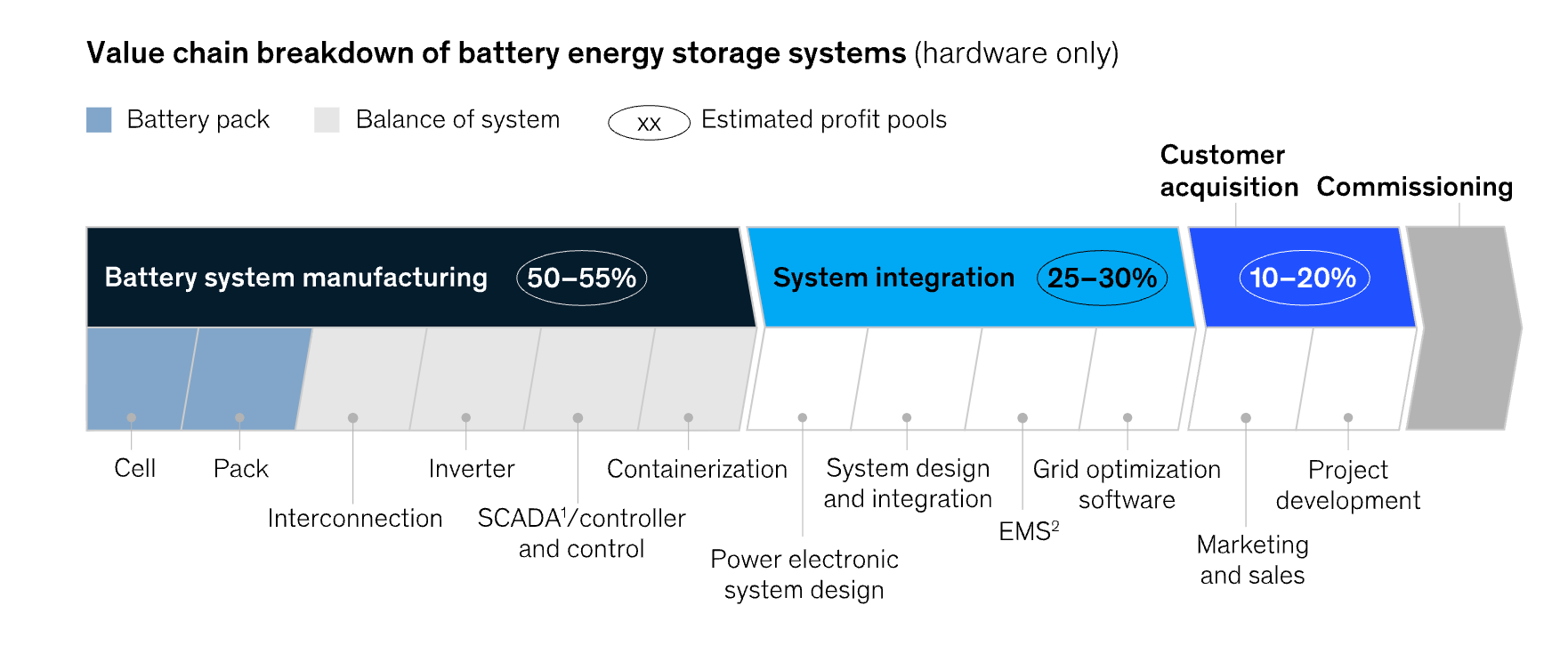 From the foundational battery system manufacturing, which constitutes 50-55% of the landscape, to the vital system integration and customer acquisition, there's a meticulous process behind every BESS product.
Battery system manufacturing remains core, encompassing everything from the individual cell design to the complete battery pack assembly. System integration, taking up 25-30%, emphasizes the importance of harmonizing various components - from inverters and controllers to software and system design. Finally, with 10-20% dedicated to customer outreach and commissioning, ACE Battery understands that a strong client relationship is key.
Embracing the insights from this value chain, ACE Battery's strategy zeroes in on holistic solutions. It's not just about creating a battery; it's about integrating it seamlessly into modern infrastructures, ensuring user-friendly interfaces, and providing unparalleled post-purchase support. As BESS evolves, ACE Battery remains committed to leading with quality, innovation, and a deep understanding of the market's nuances.